How to get to San Juan Island?
Getting here is part of the fun! Whether you arrive by boat, ferry, shuttle, seaplane or some other adventurous means, travel to San Juan island gives you your first taste of the unique landscape you'll be exploring. With a little planning, you can easily make it a day trip from Seattle, Tacoma, or Vancouver BC, but we hope you'll stay even longer.
---
All of our sea kayak tours meet in Friday Harbor, right where the ferry from Anacortes arrives.

If you are driving or coming by bus, you'll need to get to the Anacortes Ferry Terminal. There is now a reservation system for the Washington State Ferries and we recommend making one if you plan on bringing a vehicle across. An alternative that requires no reservation is to park your car and walk onto the ferry, saving both time and money. If you are a foot passenger, make sure you allow 45 minutes to buy your ticket, park your car and carry your gear to the passenger departure area.
If you are flying in to the Seattle-Tacoma (Sea-Tac) Airport, many of our guests take advantage of the Sea-Tac to Anacortes Airporter shuttle. It will take you right to the Anacortes ferry landing from the airport. At the ferry terminal simply buy a walk-on ticket and take the ferry to Friday Harbor on San Juan Island.
There is also a high-speed, passenger-only boat (see the Victoria Clipper info below) with daily runs from Seattle to Friday Harbor.
See below for other options, including air charter services and shuttles.
---
Travel Timing & Directions
Anacortes Ferry Departure: If you are coming from the mainland by ferry, there's a morning ferry that leaves Anacortes in the AM & arrives in Friday Harbor approximately 1.5 hours later (consult the WSDOT online schedule for exact timing). If you are planning to bring a car onto the island the day of the trip, please make sure you make a reservation with the WSDOT as there are limited drive up spots available. We strongly recommend leaving your car at the ferry terminal and walking on.
From Seattle: Allow two hours driving time to reach the ferry terminal (consult a mapping app to determine traffic delays). Add another 45 minutes to park your car, buy a ticket, and carry personal gear to the passenger departure area.
Driving Directions from Seattle: Drive north on Interstate 5, passing through Everett and Mount Vernon. Take Exit 230 (Sedro-Wooley/Burlington Exit) and go left (west) following Highway 20 to Anacortes. In Anacortes, follow the signs to the San Juan Islands ferry terminal.
Ticket Buying and Ferry Departure: Park your car, buy a passenger (walk-on) ticket for Friday Harbor at the ticket booth, and carry your gear to the passenger departure area. Tickets may be purchased online as well from the WSDOT website.
Walk off the ferry, turn right on Front Street and walk 1 block to the traffic circle/cul de sac. Look for our 15-passenger van with the Outdoor Odysseys logo on the side.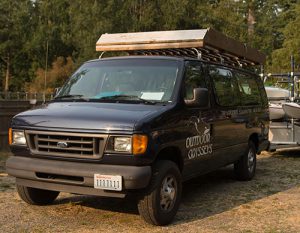 Helpful Travel Resources
Most of our guests have been renting vehicles to travel to the islands. Consider car sharing options such as Turo or GetAround
Anacortes SeaTac Airporter Shuttle – 866-235-5247 – Shuttle service between the Anacortes ferry terminal and Sea-Tac airport in Seattle.
Friday Harbor Seaplanes – 425-277-1590 – Departs from Renton (float planes). $8 Shuttle from Sea-Tac.
Kenmore Air – 800-543-9595 – Flies from either Boeing Field (wheeled plane, free shuttle from Sea-Tac, 50lb baggage allowance) or Lake Union (float plane, no shuttle, 25lb baggage allowance) to Friday Harbor. We definitely recommend Boeing-Friday Harbor as the most time efficient and convenient itinerary.
Point to Point Air – 425-530-5518 – Point to Point does air charters to many points here in the San Juans. These folks love flying and sharing the fun and convenience of air travel.
San Juan Airlines – 800-874-4434 – Flying from Bellingham, Anacortes, Point Roberts and the San Juans. Charters Available.
Washington State Ferries – 206-464-6400 – The only way to get your vehicle onto the islands. The ferry route goes from Anacortes to Friday Harbor and then on to Sydney on Vancouver Island.
Westwind Aviation – A Friday Harbor, WA based airline providing charter flights anywhere in the Pacific Northwest including the San Juan Islands.